Services

Fluid Service
Your vehicle is comprised of many systems that rely on fluids to keep them performing safely and effectively.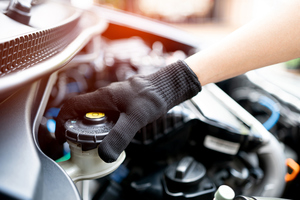 Are your vehicle's fluids at the right level to do the job? We offer a comprehensive list of fluid services to ensure everything's working exactly as it should.
To keep all of the moving parts of your vehicle moving, your engine has many different types of fluid. Our team of mechanics offers all of the services you need to keep those fluids topped off and changed properly. Without working fluids, your engine's most important components will fail, leaving you in a lurch. Trust us to keep things moving.
Common Fluid Services
Most of your vehicle's major systems rely on fluids to keep them performing properly. We can assist with:
· Engine oil – Oil needs to be changed every 3,000 miles, or sometimes more on newer vehicles. Check your manufacturer's recommendations and evaluate your driving conditions to ensure your engine is running on clean oil.
· Brake Fluid – Your brakes are made up of several hydraulic parts that require fluid to operate properly. Keeping that fluid clean will give you a longer lifespan from your brakes.
· Coolant – Coolant runs through the radiator to keep your engine cooled. Without it, you will end up overheating. Coolant also needs to be properly protected against freezing temperatures.
· Power Steering Fluid – Power steering systems rely on fluid to reduce heat and friction and to keep moving parts lubricated. This fluid degrades with time, and it will need to be flushed or replaced to keep your vehicle responsive.
Our skilled mechanics can assist with evaluating and replacing any of these fluids.
Signs of Fluid Problems
While many car owners will have fluid services done as part of their routine maintenance, sometimes problems can arise that indicate you need help with these systems before the normal maintenance time comes around. Watch for these signs that indicate you may have a fluid leak or other problem:
· Liquid pooling in the garage or driveway from your vehicle
· Low fluids when you perform regular checks
· Warning lights on the dashboard
For any of these issues, you can stop into our location to get your coolant system checked, flushed, or topped off. Visit us for:
· Coolant flush
· Transmission flush
· Power steering flush
· Front differential
· Rear differential
· Transfer case
· Fuel injection system cleaning
· Brake system flush
We are here to serve you and help you keep your car running at its best. Stop in for help with all of your fluid services today.